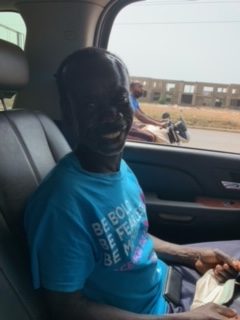 Pastor Robert received Christ as Lord and Savior in 2014 under the ministry of Pastor Emmanuel (the minister whose ministry my father  has been supporting for many years both in giving and helping with mission outreaches on multiple mission trips  over the years). Pastor  Robert lives in a village named Banadbongasi, where he got a burden for his lost family, friends, and neighbors and surrendered to ministry the same year he received Christ.
With basic training, Pastor Emmanuel worked alongside Pastor Robert to start Green Valley Baptist Church that same year.  They waste no time getting the simple Gospel out to the villagers!!
Currently Pastor Robert is attending classes in Pastor Emmanuel's Bible college for pastors to ensure a more thorough understanding of the doctrine of scriptures.  Because of many's  lack of education, the process is often slow because some even have to learn to read and write and learn the English language before they do much else.  Having said that, there is no set time they must finish as their training is one on one, each at their own pace, depending upon where they are in the process.  Pastor Robert has come a long way, and now has a disciple (local retired educator) who received Christ under his ministry and is teaching Sunday Scool and training to step in as Pastor as soon as Pastor Robert is able to travel to a neighboring village to plant a new church.
His burden now is for the village of Sabiye, which has, to my knowledge, no Baptist church at the time of this writing.  In order to work the village, he must travel several miles, but currently has no mode of transportation.  He told me that as soon as God provides transportation, he will then be able to use it to travel and begin the work of planting a church there.  This is one of the villages we stopped at and shared the Gospel where at least 10 received Christ at or around Beetrice's doorsteps (GO HERE to read about that visit and see a couple of pics).
Through God's goodness and the giving of His precious people, we are coming alongside Pastor Robert and have raised the funds for the transportation he needs for this new church plant.  To God Be the Glory!!!!
Pastor Robert's most useful vehicle is a three wheeler as seen below.  It is difficult to find a reliable used one, so it was our desire that God would enable us to raise the funds he needs to purchase one brand new that he can travel in confidence with.  $2,500 has already been raised, and covers the costs of the vehicle, the tag, taxes, insurance, exchange rate, a full tank of gas, and a couple extra hundred just for good measure.  I want to say THANK YOU to all who have contributed to this great need.  Pastor Robert has been faithful and reliable in the ministry, and is a true servant of God.  100% of this fund will go to Pastor Robert to meet this specific need in the very near future (this was updated on 4-2-2021).  Any "left over" (approx. 200) will be for him to use for misc. needs that arise as he begins this new chapter in his ministry!  We are now in the process of getting the funds to Ghana for Pastor Robert!!  And if you still want to get involved in this great ministry, "phase 2" would be to help raise the funds for the actual church building.  They will currently be meeting most likely in open air under a shade tree.  More on this later!!  Meanwhile, stay tuned in our news feed for updated pictures in the near future!!!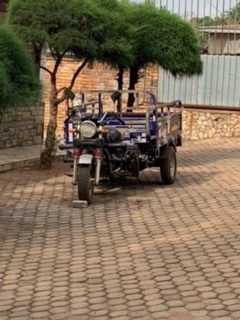 As of 12–07–2023…